This year the focus was to provide Employment Linked Skill Training for unemployed youth in Gurgaon NCR region. During counselling in nearby villages of Sikanderpur, Chakarpur and Nathupur, it was observed that there were a huge number of north east youth coming from poor families looking for employment opportunities in Delhi and Gurgaon.
So many youth had fallen prey to wrong and illegal trades like scam call centres, sex trade, shady beauty spas etc. The stories of some of the youth were heart wrenching with huge families to support back home.
These young and ignorant 18 years school dropouts from the hill regions of North East coming to Delhi and Gurgaon without any money were easy targets for crime and were often misled into illegal professions.
Visan Foundation realised that there was so much work to be done and decided to train north east youth to give them the opportunity they are looking for, to led and good, decent and fulfilling life.
In 2017-18, besides creating and streamlining new initiatives, Visan Foundation undertook and successfully completed the following two programmes:
PROJECT: Employment Linked Skills Training for Under-Privileged Youth of Delhi NCR
With experience of training unemployed youth from economically weaker sections in the past few years, the same theme continued for the year 2017-18 too.
The core objectives of the programme is providing skill-based training to unemployed youth as per the requirement of Hospitality & Service Industry as per the qualification guidelines of the Tourism and Hospitality Skill Council (THSC).
Unemployed youth from the nearby villages of Nathupur, Chakarpur, and Old Gurgaon were provided employment training in the hospitality Food & Beverage Service.
After the successful completion of training the youth were placed in well known hotels and restaurants of Delhi-NCR.
PROJECT: Employment Linked Skills Training for Under-Privileged Youth of North Eastern Region
The north east region of India is the country's most underdeveloped region. This leads to unemployment, poverty and unrest due to the critical socio-economic conditions. The families are large due to strong religious beliefs.
With no resources to take care of the basic needs, most often the youth are compelled to discontinue their education. Large population of young people from the North East of India comes to Delhi-NCR looking for work. There is no structure to provide guidance to young people who come looking for jobs.
Visan Foundation decided to work with the underdeveloped eight states of North East Region. 21 youth from the north east region were trained through the year.
Alongwith getting intensively trained in the core field of Hospitality (Food & Beverage Service), these youth were also taught Personality Development & Soft Skills, Life Skills, Preparing for Interview and Money Management.
Finally they got placements in top hotels aand restaurants including The Oberoi, The Andaz (Hyatt Regency Brand), Pullman, The Grand, Crowne Plaza Rohini, Radisson Blu, Kaushambi, The Clarens, People & Co, Wow Momos, Lite Bite Food Ltd, with salaries ranging from Rs.10000/- to Rs.21000/- per month as per their profiles.
Complete details about the above projects, delivery, pedagogy, the processes followed, and finally the impact they created, have been compiled in our Annual Report 2017-18.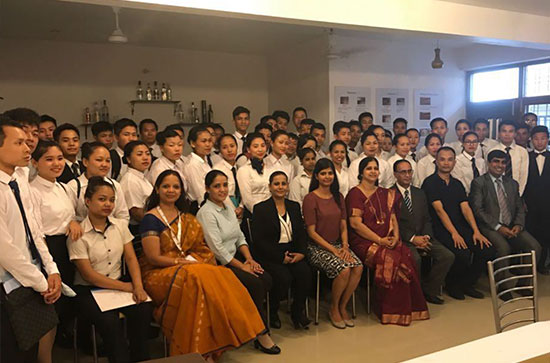 Click to Download
Our Annual Report 2017-18