Skill development assumes special significance in India in the present times as there is a gradual change taking place in the employment scenario of the country. Scarcity of skilled labour remains one of the most pressing problems faced by the small and medium enterprises in the country.
Thus, a holistic approach is required to address the problem of skills shortage in India, wherein we have a huge rural workforce which till date remains untapped. This force can be trained and then integrated into the mainstream economy to bridge the skills gap.
Keeping the above in view, Visan Foundation conducted the Honda Two Wheeler India CSR Initiative to train and place 90 under privileged, students which yielded excellent results of training with 100% placement.
An overview of this program conducted from August 2019 to February 2020, is as follows:
Honda Two-Wheeler India CSR Initiative
Honda Two Wheeler India signed an MoU with Visan Foundation to train 90 underprivileged youth from North Eastern states. The training was for the job role of Food & Beverage Service Steward NSQF level 4.
Under the project, we targeted the slum areas, EWS and BPL candidates, who were not able to work due to lack of training, or their family conditions were such that they were forced to drop their studies.
Activities of Extempore, Group Discussion, Quiz Competitions, Team Building, Self Inttroduction, Enersizer were conducted to enhance their skils in hospitality. Regular competitions were conducted, and prizes were given to encourage students who showed improvement in their F&B skills.
As part of the orientation, the students were given a group assignment to get First Hand Experience of operations of the Hospitality Industry. They presented project report and did a presentation in the class.
Under this project, ninety students were trained, assessed (by the govt) and placed. All ninety students passed with flying colours with 100% passing for all 3 batches.
The placement drive also recorded 100% placements for the beneficiaries in 5 Star hotels including The Oberoi Hotel (New Delhi), Taj Hotel (Chandigarh), Hyatt Place (Gurugram), Park Ascent Hotel (Noida), ITC Fortune Select Global (Gurugram), Hilton Hotel (Gurugram), Crowne Plaza Hotel & Resorts (New Delhi), The Metropolitan Hotel & Spa (New Delhi), Marriot Hotel, Resort & Spa (Jaisalmer), Park Plaza Hotel (Jodhpur), ITC Welcome Hotel (Dwarka, New Delhi), The Grand (New Delhi), Plaza Premium Lounge (Chandigarh Airport), Bercos (New Delhi).
This initiative brought great changes in the lives of people who have been trained and successfully placed in different well-known organizations. These students are a lot more confident about their future and are inspiring others to move towards the same path.
Complete details about the above project, delivery, pedagogy, the processes followed, and finally the impact it created, have been compiled in our Annual Report 2019-20.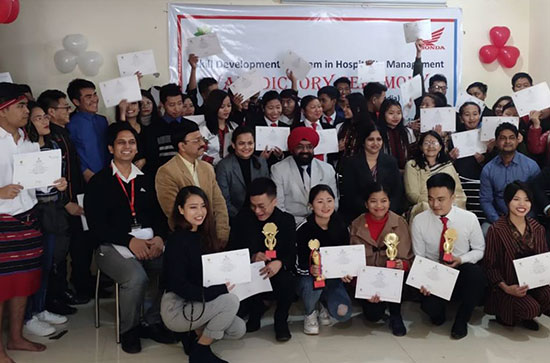 Click to Download
Our Annual Report 2019-20